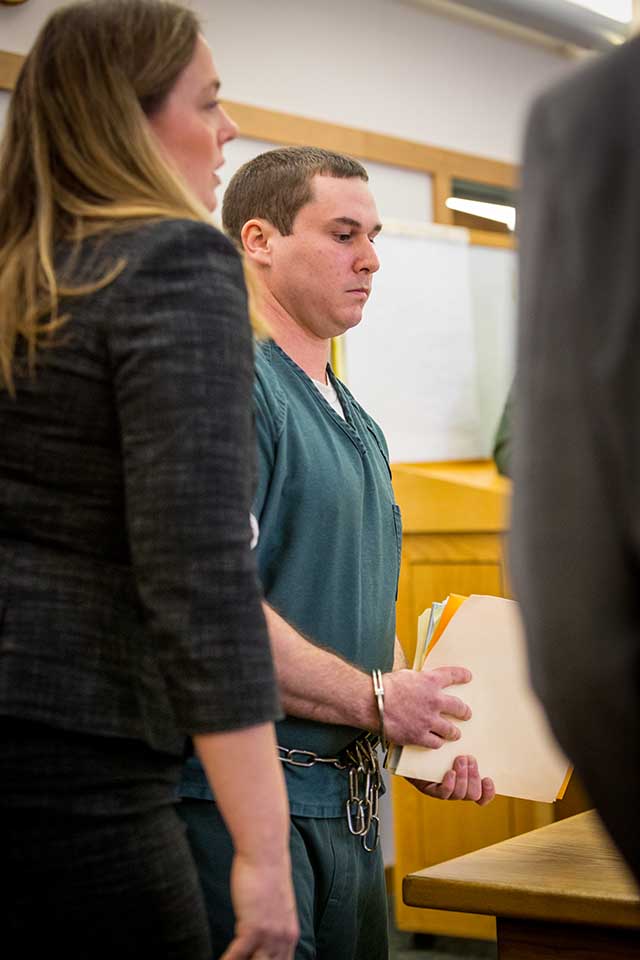 Ethan Gratton, the man accused of gunning down two men earlier this month on Georgia Mountain Road was back in court today, arguing for his release.
During testimony given by Trooper Jason Letourneau, a blood trail at the scene lead police to a small cache of weapons in the defendant's pickup truck, which was parked at the top of the Gratton's driveway, about 144 feet from the road.
Letourneau said that police found numerous guns, knives, a flack jacket and several tins of ammo.
Also found in Gratton's vehicle, according to the trooper, was an empty holster, which is suspected to be the holster that belonged to the 40 caliber handgun used in the shooting.
(article continues below ad)
Police recovered a 40 caliber Smith and Wesson, an empty clip, and an empty shell casing when Gratton was initially taken into custody.
"It was the same type of jacket that myself or my guys would wear," Letourneau said of the flack jacket found in Gratton's vehicle.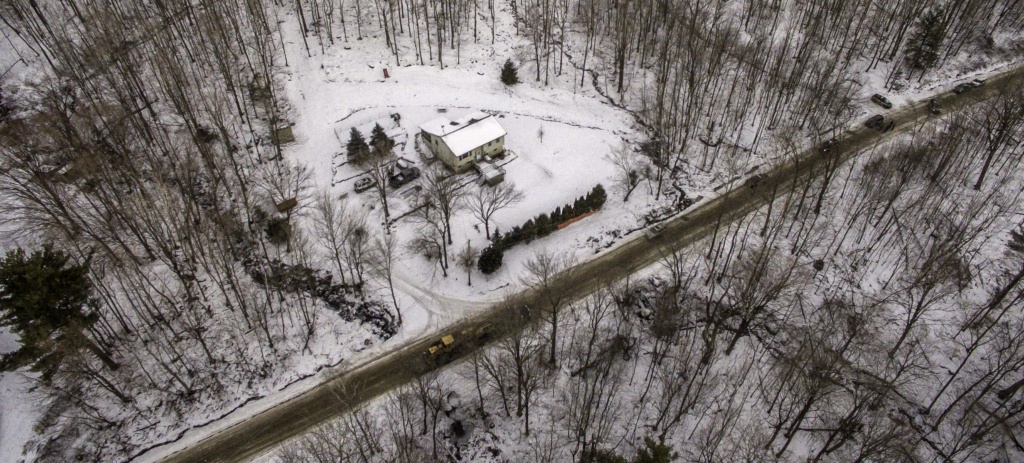 Letourneau said that police found more guns, ammo, and an empty holster inside Gratton's bedroom when the team searched the home for evidence.
Prosecutors pointed mainly to blood patterns and trails for evidence in the murder, as well as a 911 call made by the defendant's mother, prior to his mother knowing that he was the shooter.
A blood trail lead from the place of the shooting, up the driveway, around Gratton's pickup, and inside the home, according to police.
Blood was also found on the kitchen sink, upstairs bathroom sink, and in the basement on a set of boots, according to Trooper Matthew Johnson.
Gratton's neighbor, Caleb McLane, also testified on Wednesday. McLane was the first person known to come upon the scene after the shooting.
McLane said that he was so scared when he realized what he was witnessing, that his hands shook so much it was hard to dial 911.
McLane recalled Gratton say that he confronted the two men that were shot for turning a skidder around in his driveway, then went back inside his home, retrieved a gun, and shot them.
(article continues below ad)
At one point, when Gratton's mother was on the phone with 911, she told the operator that she thought she saw one of the men move his arm, but now thought they were both dead.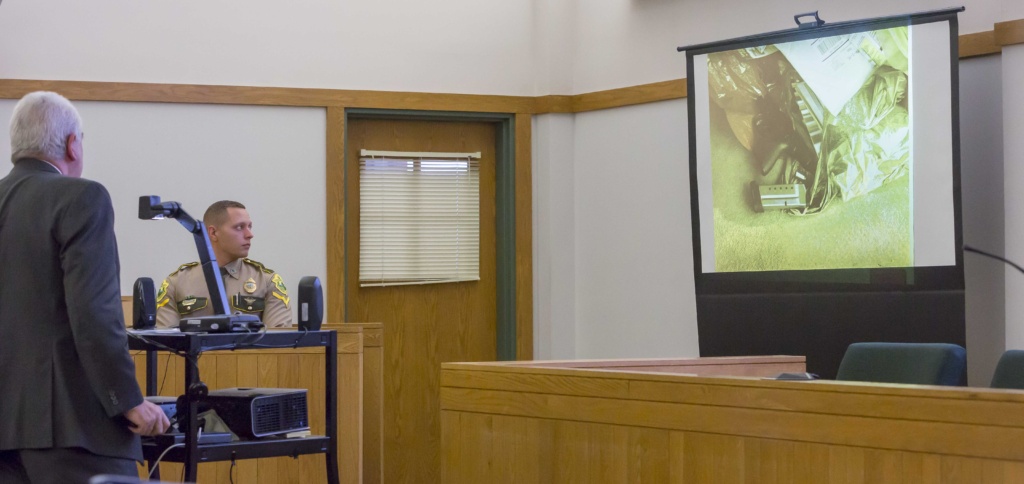 Gratton sat through the 5 hours long hearing staring down at his lap, only looking up occasionally to quietly answer questions from his lawyers.
Whenever Gratton was lead in or out of the courtroom, his lawyers shielded him from view of the media as best they could in an effort to keep the public from seeing him in prison garb, as a way to prevent the public from prejudicing him prior to a jury being selected for a trial.
The intent of the hearing was to convince Judge Gregory Rainville to release, in one way or another, Gratton.
Gratton's lawyers cited case law that they believe could push the judge towards releasing their client, as well as taking testimony from Gratton's mother and aunt, in the event that the court would release Gratton into the custody of one of them.
Gratton's lawyers also pushed the idea that no guns or weapons would be allowed in any house that Gratton stays at while the case is pending.
(article continues below ad)
Currently, Gratton is being held without bail. The State pushed for that to continue, but reminded Judge Rainville that the court initially set bail at $100,000.
Gratton's defense argued that if bail is set in the case, it should not exceed $25,000.
Family of the victims in the case let out a loud outcry over that request. Judge Rainville quickly intervened, sternly reminding the public that they were "in a courtroom, not their living room."
Ultimately, Rainville said he would take all the evidence under advisement, but that he would not make a ruling today.
Rainville said, in no uncertain terms though, that this case is very rare, and that nobody should make any rash judgments in the case.
"There are an awful lot of unknowns," Rainville said, "it's unusual for someone to get punched in the face with a broken nose and a broken tooth over an argument about driveway access. Something happened that we don't know about. It's also unusual for someone who has no record to pick up a weapon and start shooting."
The judge reminded everyone that there is much more evidence that needs to be assessed.
(article continues below ad)
"We need lab reports, we need the full reports from Vermont's Police Department," Rainville said.
We deal with serious charges often in this court, but we don't see these kinds of factual circumstances very often. People should not be jumping to conclusions about how things happened until we have more evidence.
Rainville noted that one big factor in his decision will be Gratton's medical file. He'll be looking for evidence in there to support the defense's theory that Gratton suffered a concussion from a punch landed by Hill.
The thinking is that Gratton's concussion, if he had one, may have prevented him from forming rational thought and intent when he shot Hill and Brito, an essential element that the prosecution would have to prove in a jury trial.
Gratton is facing second-degree murder and attempted second-degree murder charges in the case in the killing of David hill and the wounding of Mark Brito. He faces life in prison on each count.
Comments
Comments