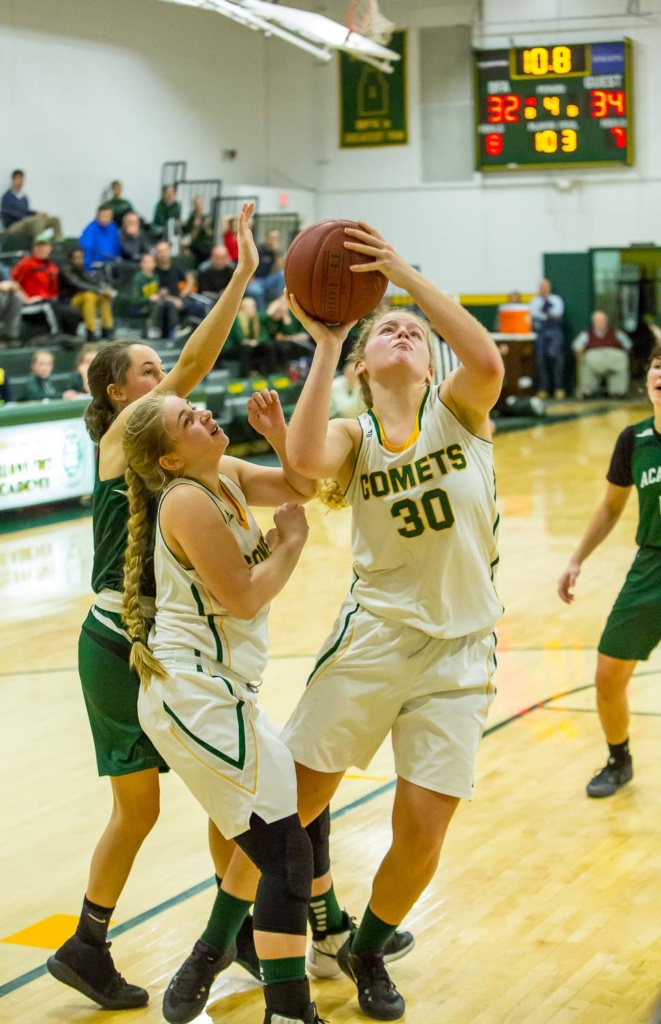 ST. ALBANS: Two undefeated teams. Someone had to lose, right?
Well for the Comets of BFA, Tuesday was their turn to lose.
Kelly Laggis' last minute basket sent the Comets into overtime, but the Hilltopers overcame with a perfectly times three-pointer from freshman Josie Choiniere, putting St. Johnsbury up by one. A foul to force the clock to stop would sink another point for the visiting girls.
The closely matched DI game wasn't too much, they just lacked a little bit of focus at times, according to head coach Shawn Earl.
(article continues below ad)
"Our goal was never to go undefeated. As nice as it sounds, that's a lot of pressure," Earl said.
A last ditch effort for a three-pointer at the top of the arc by the Comets' Lilly McAllister barely missed, leaving the comets a fraction of a second from defeat.
"It was pretty much what I anticipated," Earl said, "Feeling each other out in the beginning of the game, but it picked up by the end."
Like any good coach, though, Earl had some wise words for his team.
"A loss this time of year, it's discouraging any time you lose, but I told the girls we need to fail in order to get better. There are some things here that we will look at on film and address and get better."
Freshman Josie Choiniere lead the Hilltopers with 18 points, including four threes. BFA's Hannah Earl lead her Comets through the hard fought game.
St. Johnsbury improves their record to 7-0 with the 38-40 win, jumping into first place in DI girls basketball. BFA St. Albans falls to 6-1 for the season, currently standing in fourth place in their division.
Comments
Comments