SWANTON: Donald Alfred Bean, age 70, passed away unexpectedly in his home in Swanton, VT on January 15, 2020. He was born in St. Albans, VT on August 20, 1949, the son of Alfred and Bertha Bean (Lacoste).
Donald was a lifelong resident of St. Albans. After graduating high school from Bellows Free Academy of St. Albans, he went on to work at Union Carbide/Energizer, where he was employed until his retirement after over 30 years. He was a member of the St. Albans Moose Lodge #1090, where he was also employed as a bartender for many years. He enjoyed hunting, fishing, playing cards, and scratch off lottery tickets.   He also liked watching TV, listening to music and visiting with family and friends. Some knew Donald as '2-Button Bean' as he frequently sported a half-open shirt to expose his chest hair no matter what the occasion, temperature or season.
Donald is survived by his four children Chris Bean and his wife Vanessa, of Locust Grove, VA, John Bean and his wife Sarah of Swanton, Jamie Bean of St. Albans, and Michelle Bean and her partner Bill Balentine of St Albans; his nine grandchildren, Brionne and Justin Bean, Hunter and Mason Bean,  Bryce, Brooke and Bradey Balentine, Teagan and Rylan Gates; several great-grandchildren; and his two sisters, Lorraine Corbiere, Helen Bouchard; and other close family and friends including Pauline Hardy and  Fran Bean. Donald was predeceased in death by his parents and his two sisters, Doris Beaulieu and Leona Hakey. 
Calling hours will be held on Monday, January 20, 2020, from 10:00 AM until 12:00 Noon in the Brady & Levesque Funeral Home, 86 South Main Street, St. Albans.
In lieu of flowers, please consider making a donation in Donald's name to the Department of Vermont Fish & Wildlife at www.vtfishandwildlife.com/donate.
Arrangements are entrusted to the Brady & Levesque Funeral Home, where online condolences and memories are encouraged and may be shared with the family at www.bradyandlevesque.com.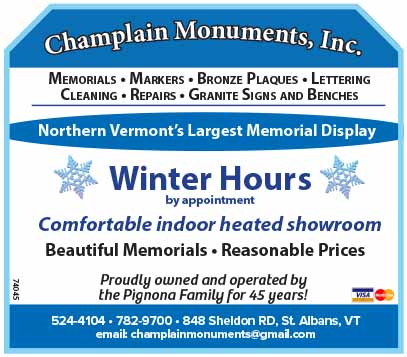 Comments
Comments