TENSIONS FLARE AFTER GAME FOLLOWING ALLEGATIONS OF RACIAL ABUSE
By Ben Kaufmann
County Courier
FAIRFAX – Following Thursday's varsity basketball game between the boys teams from Milton High School and BFA-Fairfax, fans and players confronted each other on the court regarding allegations from the Milton team that Fairfax fans had directed racist remarks at Yellow Jacket players.
In a statement signed by Franklin West Supervisory Union Superintendent John T. Tague, BFA-Fairfax High School Principal Elizabeth Noonan and Director of Student Activities Geri Witalec-Krupa, the school announced that until further notice, high school basketball games will be held without fans in attendance. The school also announced that it will be conducting an investigation into the events of Thursday night. The full statement can be read here.
There were no apparent issues during the contest, which Fairfax won, though negative comments were made from some fans about Milton's decision to silently protest injustice by kneeling during the national anthem. Immediately after the final whistle, BFA fans from the student section stormed the court in celebration. Witalec-Krupa quickly took to the floor to direct fans back to the bleachers in accordance with standard policy. In the few seconds it took to clear the BFA students off the floor, some could be seen speaking to MHS players.
Some of the players from Milton, which has multiple student-athletes of color, quickly went to head coach Mert Sells and pointed toward the BFA students. Sells approached Witalec-Krupa and the pair spoke for a few seconds before Witalec-Krupa went to speak with a particular fan. Milton exited the gym briefly before returning to enter the locker room.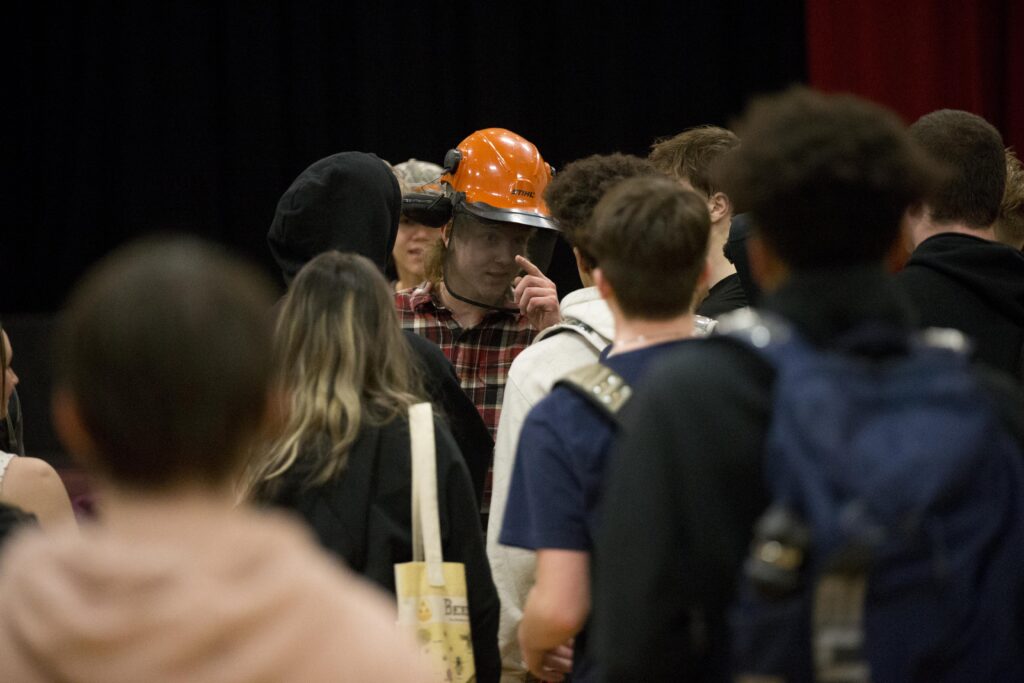 "The physical and emotional safety of all students in all aspects of school life is paramount to our work as educators," said the BFA statement, "The use of racially charged language and intimidating behavior will never be tolerated at BFA Fairfax. We will continue to work with our school community around hate speech, tolerance, and fan behavior. We will provide updates as we learn more."
Sells and Witalec-Krupa did not return immediately with the Yellow Jacket team, presumably to discuss next steps. Players from Milton began spilling back out into the gym, where the fan Witalec-Krupa had spoken to and a handful of other students were gathered. A coach with the Milton program noticed players from the MHS varsity and junior varsity teams shouting toward the BFA fans and tried in vain to get them all to leave the floor. As the Milton players approached the Fairfax group, coaches from both schools attempted to intervene. A small group from MHS began directly confronting the BFA fan Witalec-Krupa had spoken to previously. The Milton group pushed forward and had to be shielded by coaches from both teams as the fan was instructed to exit the building through a side door by a coach.
The group from Milton then retreated toward midcourt, joining teammates who were there yelling about the behavior of the Fairfax fans and saying that they've previously experienced similar abuse at Fairfax. Adult fans from both schools gathered as well and a BFA-Fairfax administrator asked the Milton students how she could help them. By this point, adult fans from both schools were on the court and engaging in confrontations with each other and the students. The adults yelling at students appeared to be primarily Fairfax supporters. Upon returning to the gym, Witalec-Krupa began clearing out the rest of the fans and Sells directed his team to the bus.
"It has been brought to our attention that last night at the MHS / Fairfax Varsity Boys Basketball game, Fairfax fans rushed the court at the close of the game," said a statement from Milton Town School District Superintendent Amy Rex. "In the chaos that ensued, it was reported that the n-word was used toward one or more of our students. The court was cleared; however, during the process of trying to uncover what occurred and upon leaving the locker room a little later there was a confrontation between MHS players and the remaining fans. The situation was emotionally charged and unsafe for our athletes."
Notably, no players from the BFA-Fairfax team appeared to be involved in the postgame fracas. The team doesn't host another game until February 1st and doesn't play Milton again this season. Since they're in different divisions, there's no chance of the two teams meeting in the playoffs, which is what happened after a racial incident between the Winooski and Enosburg boys soccer teams in 2021. The BFA-Fairfax girls are slated to play their annual "Pink Game" to raise funds and awareness for breast cancer on Tuesday against Richford. There was no indication that the game would be postponed but its status as a special event and fundraiser is in doubt. Milton returns to action Monday at Hartford and will next take its home floor on Wednesday evening against Middlebury. The BFA Fairfax girls basketball team is slated to play at Milton on February 9th.
"We are working with, and appreciate the collaboration of, the Milton administrative team to investigate this incident. When we are able to identify individuals who were involved, we will take appropriate action in accordance with our policies and expectations. At that time, we will revisit our decision around spectators at basketball games," the Fairfax statement read.
Playing games without fans has happened recently in Franklin County. Last February, fans were removed from a basketball game between Middlebury and Enosburg after Hornet fans were alleged to have made racist comments during a junior varsity game. Some subsequent basketball games at Enosburg were played without fans. As reported by the Addison Independent, Middlebury refused to return to the Hornet gym for a recent game this season, citing inadequate reparative action by Enosburg. Allegations of various forms of harassment have plagued a number of schools statewide in recent years and Milton itself hosted a soccer game with limited fans this fall after poor fan behavior.
"This event is alarming," Rex wrote in her statement, "No school should need to worry about the physical or emotional safety of their athletes – at home or as a visiting team. No team should be confronted by aggressive behavior or hate speech. This event further highlights how important it is for communities to address hate and fear and create safe, inclusive and affirming spaces for all. This event highlights that we must stand even taller and stronger in our efforts, and we will."
Comments
Comments