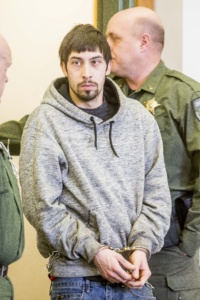 HIGHGATE: The Vermont State Police have arrested a Milton man after he allegedly tried to cross into Canada with a 13-year-old girl for a Valentine's Day tryst in Montreal.
Federal Agents at the US Customs and Border Protection called State Police after the pair was denied entry into Canada.
According to the prosecution, Jacob J. Burnham, 25, of Milton coerced the teen into a sexual relationship, convincing her to tell her parents that he was just 17 years old.
The County Courier has a policy to, generally, not identify the possible victim of a sex crime.
According to the police investigation, Burnham previously had a sexual relationship with the teen.
Burnham is facing up to 30 years if convicted of the three felony charges.
In arguing for Burnham's release on conditions, Public Defender Steve Dunham said, "Obviously 13 is too young for a Valentine's date."
Police said that Burnham had nude photographs of the 13-year-old on his cell phone, which was seized and searched at the border.
Burnham was held on $20,000 bail and will be required to have a responsible adult take custody of him in order to be released.
We'll have a full story in tomorrow's County Courier newspaper.
Comments
Comments