Nathaniel Patterson "Nat" Worman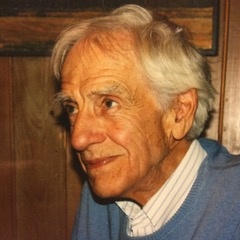 FRANKLIN: Nathaniel Patterson "Nat" Worman of Franklin, Vermont paddled off into the sunset on Monday, September 24th at his home, surrounded by loving members of his family. He was 95 years old.
Nat was born on April 28th, 1923, in Van Buren Township (now Dayton), Ohio, to Philip and Kathleen (Ramsey) Worman, the sixth of seven children (he had five brothers and one sister). At the age of five, he was stricken with scarlet fever, which caused him to be bedridden for almost a year; after he recovered from the illness, he had to learn how to walk again. It was also during childhood that Nat fell in love with books and the life of the mind. Works such as Treasure Island lit up his imagination. He would often recall trying to recreate the books he had read, remembering experiences such as "traipsing around out in the woods, pretending I was Daniel Boone."  Early on, he developed a love of nature and the great outdoors, nurtured by his family's summer trips to Lake Temagami in Ontario, Canada. There he was mentored by an indigenous Canadian who had been given the moniker "Joe Friday." Joe taught Nat many things about the lake and the lands around it, and he helped him to improve his canoeing skills. As a young man, Nat once left the village of Temagami at midnight and paddled alone to his family's island—a 24-mile trip—arriving early the next morning. Another great love was baseball and the Cincinnati Reds, and he was able to attend many games with his father and brothers at Cincinnati's old Crosley Field.
When he reached college age, his father decided that Nat should attend the University of Alaska, the "new frontier," as the elder Worman saw it. Father and son took a three-day train trip to what was then a territory of the United States. The experience of going to college in Alaska was mixed for Nat, as he met fellow students and professors he enjoyed, yet on the other hand was also extremely homesick. In later years, he would speak of sitting on the bed in his dorm room strumming on a guitar and singing the folk tune "Going Home," with tears streaming down his face. The "new frontier" experience came to an end with the bombing of Pearl Harbor. During World War II, Nat was stationed for a time at Fort Campbell, in Clarksville, Kentucky, and also at Fort Benning, on the Georgia-Alabama border. He never saw action, and he had no trouble admitting (through his many self-deprecating stories of the experience) that he was not cut out to be a military man.
However, it was through his service that he was put on a path that suited him much better. On the G.I. Bill, he attended Harvard University, leading to an experience that was both incredibly challenging and very rewarding.  He credits the words of an advisor—"There's no magic in you staying here"—that helped him de-mystify the Harvard aura during a difficult time and stay on to complete a degree in English, with a minor in Sociology, in 1951.
Twenty-eight years old when he graduated, Nat soon embarked on a quest to explore America (or "bummed around," as he would put it)—hopping freights, hitch-hiking, and writing as he traveled. He would find work along the way. He picked peaches, mined copper, and did carpentry, among other things. It was an extended sojourn that took him to every state in the nation, "with the exception of Hawaii and South Dakota," as he always reminded his children. After returning to Ohio, he worked for a few years at a newspaper called the Franklin Chronicle, thereby establishing a lifelong interest in reporting and the media.
Nat's journeys eventually took him to New York City, where he was determined to pursue the life of a writer. For a time, he was enrolled at Columbia University as a graduate student. In 1959, on the invitation of a friend, he attended a party where he had the good fortune of meeting his future wife, Eugenia (Nini) Perry Cuyler. He found himself utterly charmed by her, and a couple of days after the party got up the nerve to ask her out. Thus began a tumultuous courtship, the seriousness of which eventually brought about a case of "cold feet" for Nat. His solution was to retreat to the aforementioned Lake Temagami, where he worked furiously on building a fireplace.  He soon received an ultimatum from Nini, prompting him to break down and write her a long, flowery letter in which he informed her that she was the love of his life. She wrote back a simple response: "Good. The wedding date is November 26th."
It was on that day in 1960 that Nat and Nini were married in Princeton, New Jersey.  They left soon after for northern Vermont, where Nat had accepted a job as editor of a group of weekly newspapers in Franklin County that eventually became one paper called the County Courier. Nat was devoted to not only covering stories and people of local interest, but also the issues of the time—the turbulent 1960s.  After the assassination of Martin Luther King Jr., Nat dedicated an issue of the newspaper to the legendary civil rights leader.  He welcomed the input of any talent that was offered to the publication; one of the early contributions he published came from a future Vermont senator and eventual presidential candidate Bernie Sanders.  (Over the years, Nat stayed in touch with Sanders, who would often recognize him at political events, exclaiming: "He gave me my first job in Vermont!")
Nat and Nini lived temporarily with the owner of the paper, Bun O'Shea, in Enosburg Falls before purchasing a farmhouse located on a 48-acre property in Franklin, on the Middle Road. The couple welcomed a daughter in August of 1961, the first child of a brood that would eventually include five children: Miranda, Nancy, Philip, Christian, and Joshua.  (Their first son, Nathaniel, was stillborn).  In May of 1969, a lightning strike resulted in a fire that destroyed the farmhouse. Thanks to the generosity of friend and local legend Mae Gates, the family was housed temporarily in a camp on nearby Lake Carmi. While being devastated by the loss, Nat and Nini were also determined to rebuild, and they chose a spot a few hundred yards from the site of the old farmhouse. Construction began in the summer of 1969. In his entry in the Harvard Class of 1951 25-year anniversary book, Nat wrote about "probably the only thing I'll be remembered for"—a stone house built by him, and the many friends and relatives who volunteered to stop by and help out during that summer.
Nat eventually left the County Courier and became the spokesperson for the Vermont Electric Cooperative. He would often visit schools and give talks about the importance of energy conservation.  He was responsible for the creation of the beloved "Wise Watt Owl" character that many Vermont school children of the 1970s still remember fondly.
And there was always his writing, which was Nat's true passion.  Throughout his life, he wrote poetry, prose, short stories, and novels, and he had some of his work published in literary journals.  He also attempted to incorporate his calling into his job at the Cooperative.  In 1982, he created a short-lived but critically praised monthly magazine for the company, featuring the in-depth, personal stories for which he had such a talent.
In the 1980s, Nat founded Worman Public Relations, which at its height had two branches, one in Burlington and one in Enosburg Falls, Vermont. He also helmed many successful political campaigns, such as that of a county sheriff, who, with Nat's assistance, won a landslide victory in 1987. And he was always willing to help the community by serving on boards and advisory panels, such as the Missisquoi Valley Union High School board and that of the NOTCH (Northern Tier Centers for Health).
But whatever detours Nat took to put bread on the table, he was never more at home than when he was either in front of his typewriter or interviewing a subject for an article. He was truly interested in his fellow human beings, no matter what walk of life he or she happened to be from.  This resulted in many years of articles and profiles of Franklin County residents in the St. Albans Messenger, as well as numerous interviews on the local public access TV station.
Nat loved canoeing, hiking, and camping. He loved music—Bach, Beethoven, Mozart, and other classical composers; Gilbert & Sullivan; and some jazz, gospel, and world music, as well as certain rock and pop songs introduced to him by his children. He loved steam-powered locomotives, and would sometimes listen to records of train sounds.  He was a great fan of silent films, especially those of Buster Keaton. (Friends and family members have fond memories of parties during which Nat would project films such as The General onto a bedsheet, and everyone would gather around to watch). He loved his many friends, and he always enjoyed dinner parties and the conversation that emerged from those gatherings. Nat loved the summer ballgame that he and Nini first hosted in 1976 to celebrate the Bicentennial and which would become an annual tradition. He loved his poetry group, which met every other week and was an inspiring forum in which he could read his own work and that of the poets he admired, and also listen to the work and conversation of his talented friends. He loved his books, always spilling out from the many bookcases throughout the house—Charles Dickens, Walt Whitman, Emily Dickinson, William Shakespeare, Henry James, and Carl Sandburg were among the writers he admired—all of which point to his relentless curiosity, blooming in childhood and lasting as long as he could humanly hold onto it.
He always made clear his unconditional love for his children. And he loved Nini, of course—reading with her, arguing with her, laughing with her, nipping down to Burlington for dinner and a movie and a stay at the Ho-Hum Motel, or up to Montréal for theater, or going on any adventure with her—a fellow traveler as equally curious about the journey as he.
Nat is survived by his wife, Nini; his five children and their partners, Miranda Worman and Jeff Woldt of Brooklyn, NY, Nancy Worman and Iakovos Vasiliou of New York, NY, Philip Worman and Maya Kabat of Berkeley, CA, Christian Worman and Valbona Demiri of Furlong, PA, and Joshua Worman of Franklin, VT; five grandchildren, Charlotte and Ethan Worman of Berkeley, CA, and Eudora, Magnolia, and Orion Demiri-Worman of Furlong, PA; numerous relatives—nieces, nephews, and cousins with whom he never lost touch and who loved him as much as he loved them—and many, many dear friends.
A memorial service to celebrate Nat's life will be held at Grace Episcopal Church, 215 Pleasant Street, Sheldon, Vermont, on Saturday, November 3rd at 2 PM.
The Worman family would like to sincerely thank the staff of the NOTCH in Richford, VT, as well as that of Franklin County Home Health and Hospice, for their professionalism, care, and dedication to Nat's comfort and well-being in the final phase of his life. Also, many thanks and much love to the Rev. Janet K. Brown and the congregation of Grace Episcopal Church for their steadfast support and guidance.
Comments
Comments