BULLETS FALL TO POULTNEY IN FINAL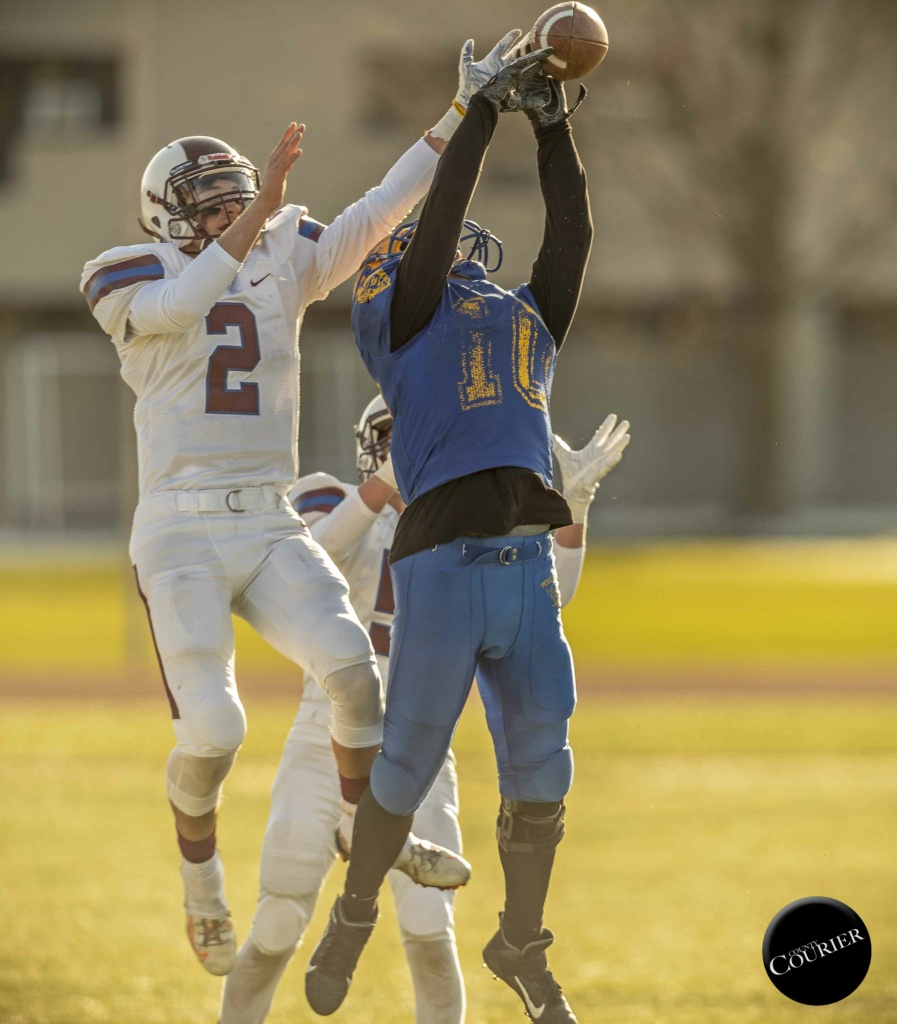 By Ben Kaufmann
County Courier
RUTLAND – It was too little, too late for BFA-Fairfax/Lamoille on Saturday as its bid for a second Division III football championship came up empty with Poultney pulling out a 17-8 victory to earn the title.
The (No. 2) Bullets came into Saturday's title tilt with top-ranked Poultney as owners of a 6-0 victory over the Blue Devils earlier this season. This go-around offered more offense, but it was Poultney which held a 14-0 lead at halftime after holding the Bullets to 46 first-half yards.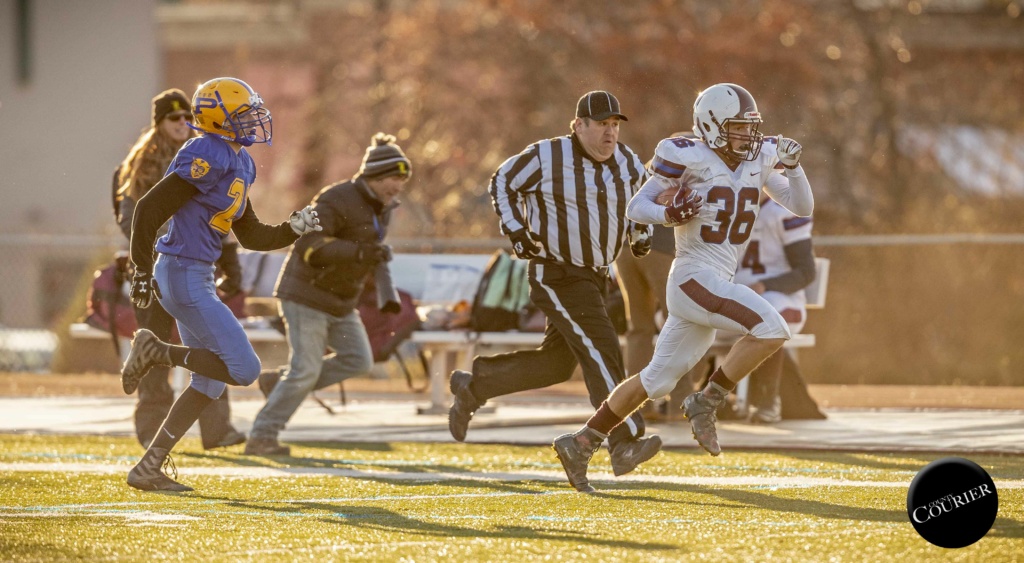 Jaxon Schaarschmidt led BFA's comeback attempt in the second half, amassing 94 of his 132 yards on the day over the final two quarters before being taken off with an injury on BFA's final drive. Schaarschmidt ripped off a 75-yard touchdown run on the second play of the fourth quarter, and two point conversion, to cut Poultney's (10-1) lead to 17-8 and give the Bullets (9-2) hope.
With his Bullets still down 9 in the final quarter, Schaarschmidt recovered a fumble to enable BFA's final drive and was the ball carrier for the first three plays. He made a stellar catch on fourth-down to keep BFA's title hopes alive but was hit hard after the reception and could not return.
[bar group="86″]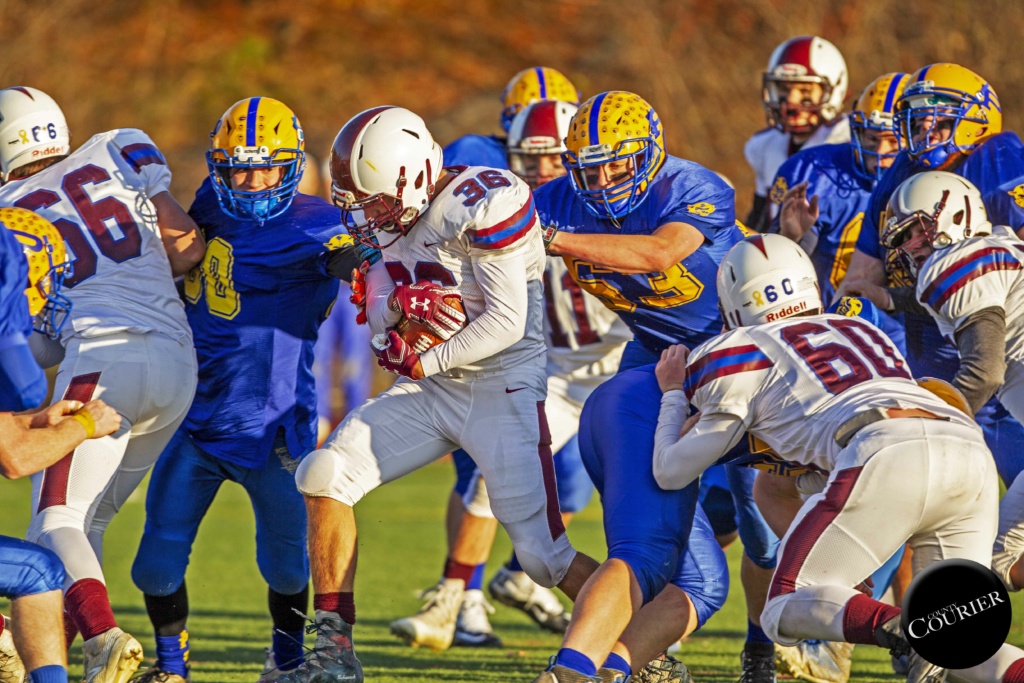 That final Bullet drive would have been a good one in many situations. They traveled 69 yards down the field, finally turning the ball over on downs after a would-be touchdown reception from Quinn Meunier was whistled off for a penalty. Unfortunately for Fairfax/Lamoille, that drive took 9:49 off the clock with the Bullets needing two scores. Poultney had no trouble running the remaining 19 seconds off the clock after gaining possession.
"The kids never quit, they fought right to the end," said BFA coach Craig Sleeman. "I'm proud as hell of them, they kept fighting. If we'd been able to punch it in toward the end we had three timeouts to use on defense. Sometimes you just run out of time."
Mistakes, sadly, were the story of the day for the Bullets. After forcing a three-and-out on Poultney's opening drive and gaining a first-down of their own to get going, BFA fumbled an ill-advised pitch early in the first quarter. Two plays later, the Blue Devils broke off a 26-yard touchdown run for a 7-0 lead.
[bar group="86″]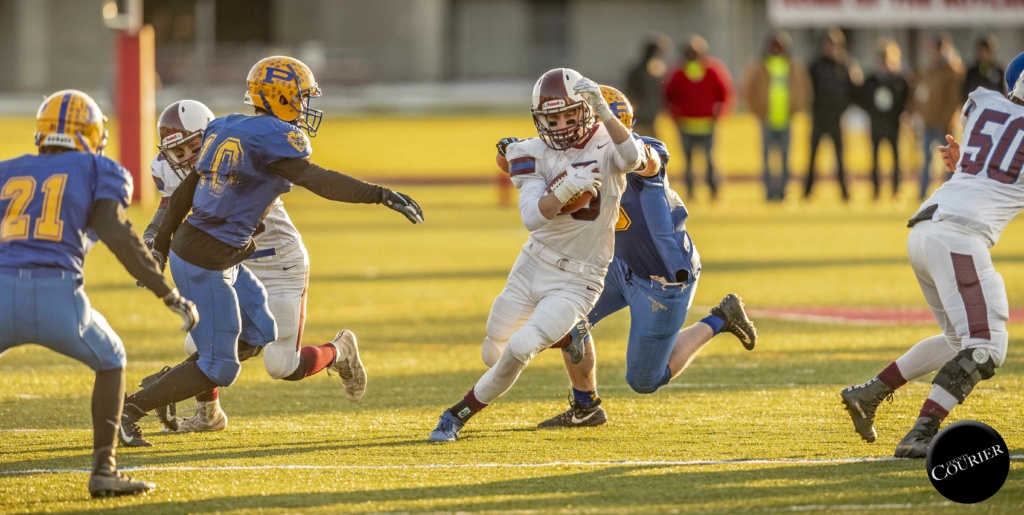 Early in the second quarter, the Bullets had Poultney facing a fourth-and-one but jumped offsides. A couple plays later the Blue Devils were staring at third-and-eleven until Fairfax/Lamoille bailed them out with a face-mask penalty. Poultney finished that drive with a touchdown and took a 14-0 lead into the half.
Another fumble in the third quarter gave Poultney possession that it would use to kick a field-goal and build a 17-0 lead.
[bar group="86″]
"It was kind of more of that than anything," Sleeman said of BFA's errors. "We kind of shot ourselves in the foot positionally a couple of times."
The Bullets, which had been undefeated before a loss in the final week of the regular season against Otter Valley, will have to wait another year to play for a second program title (the Bullets won their only crown in 2014).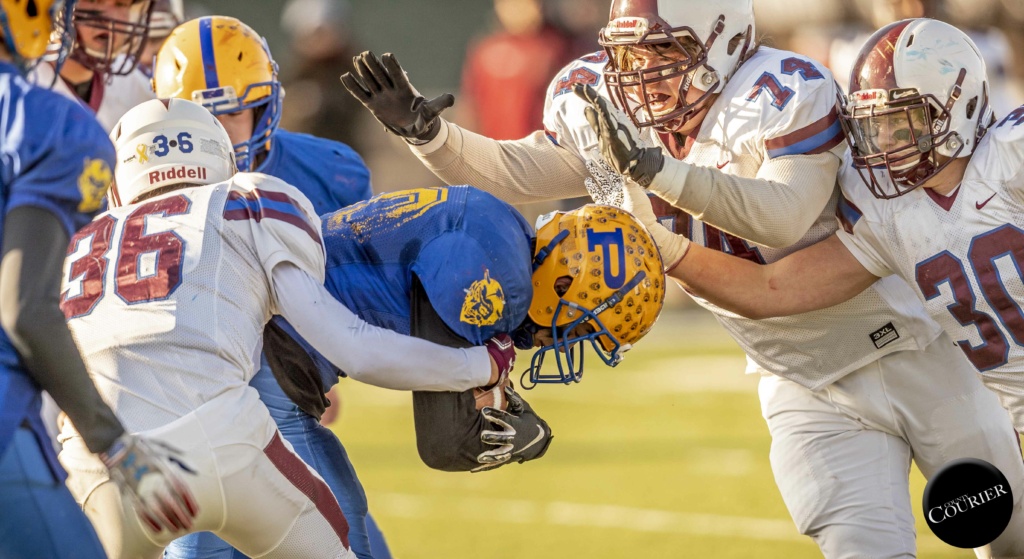 Poultney, now winners of two straight playoff victories against BFA going back to last year's semifinal, win their second football championship – the Blue Devils last took the crown in 2007.
Look for this Thursday's County Courier for a full report on Saturday's game, complete with an array of photos, more postgame thoughts from Sleeman, and more details on a number of strong performances from multiple Fairfax/Lamoille players.
[bar group="86″]
Comments
Comments