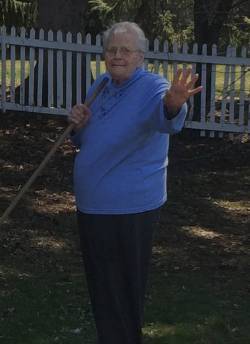 Saint Albans – Margaret Emily Brown a lifelong resident of this area passed away Sunday, November 3, 2019, at the Northwestern Medical Center.
Born in St. Albans on August 7, 1923, she was the daughter of the late Carl F. and Eva (Collins) Brown. Margaret was 96 years old. She has lived most of her life in the house she was born in. Margaret always had a smile and a helping hand for whoever needed it. Everyone was her family.
Margaret was a 1942 graduate of Bellows Free Academy and went on to be a registered nurse at the former Medical Center of Vermont.  She was a member of the Nurses Association of American College of Obstetrics and Gynecologist and a life member of St. Paul's United Methodist Church. 
Margaret is survived by 3 nieces, Barbara Zelasko of Denville, New Jersey, Kathleen Henry of Millville, New Jersey and Paula Sharpe of Camarillo, California. Margaret was the last of her generation of the Collins, Brown and Dunsmore family.
In addition, to her parents, she was predeceased by her sister, Lois Brown Zelasko. 
Funeral services will be planned for a later date.
In lieu of flowers, memorials may be made to the American Diabetes Association, P.O. Box 15829, Arlington, Virginia 22215 or American Heart Association, P.O. Box 417004, Boston, Massachusetts 02241-7005.
Assisting Margaret's family is the Heald Funeral Home, where messages of condolence are welcome at www.healdfuneralhome.com.  
[bar group="86″]

Comments
Comments