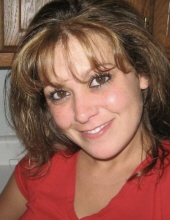 TICONDEROGA, NY/FRANKLIN: Tina L. (Domina) Abare, 41, of Ticonderoga, died early Thursday morning, November 29, 2018, following an unexpected heart attack.
Born in Holyoke, Massachusetts on February 21, 1977, she was the daughter of Mr. Lee and Theresa (Renaud) Domina.
Tina married Trent J. Abare, of Ticonderoga, on August 7, 2004.
Tina was a loving soul who was very dedicated to her family and friends. She was happiest when everyone got together during the summer, and in supporting her kids in various school activities and sports programs. She loved nothing more than loving her family with all she had.
She also was very skilled at running the administrative side of 'Trent Abare Logging and Trucking' for the past 15 years.
In addition to her husband, she is survived by her three children, Morgan Dean, Riley Abare, Trent Jr. "Buddy" Abare, and her son-in-law Jordan Woods, all of New York.
Tina is also survived by her parents, Lee and Theresa Domina of Franklin; her brother, Steven Domina; her sister, Sherry Domina both also from Franklin; and her nieces and nephews, Sasha Domina, Brandon and Ethan Longe, and Holly Domina. She is also survived by many loving aunts, uncles, and cousins.
Relatives and friends may call Thursday, December 6, 2018, from 1-2pm at the Wilcox & Regan Funeral Home, 11 Algonkin St., Ticonderoga, NY.
A Memorial Service will immediately follow at 2pm at the Wilcox & Regan Funeral Home on Thursday, December 6th with the Rev. Lenny Woods scheduled to officiate.
In lieu of flowers, donations will be appreciated in support of Riley's and Trent's educational fund. Checks and money orders can be made out to The benefit of Riley and Trent Abare, c/o Morgan Dean, and mailed to Ticonderoga Federal Credit Union, 1178 NYS Rte. 9N, Ticonderoga, NY 12883.
To offer online condolences, please visit www.wilcoxandreganfuneralhome.com
Comments
Comments