MONTPELIER: The State of Vermont has released new data in regard to the novel coronavirus.
According to the State, the number of positive cases has risen to 75, up 25 from yesterday. Also part of the new information is that there have been three new deaths, bringing the total deaths from the virus in the state to five.
Total positive cases at Burlington Health and Rehab has risen to 14. Four of the five fatalities in Vermont have originated from that facility.
The Governor is asking for businesses and non-profits to lend a hand to their communities to get through this pandemic.
"We're seeing this from across the state, from businesses allowing workers to work from home to making specific hours for the elderly and high-risk public."
Governor Phil Scott said this is the time to tap into the creative spirit of Vermonters to step up and join together, even though we have to be physically separated.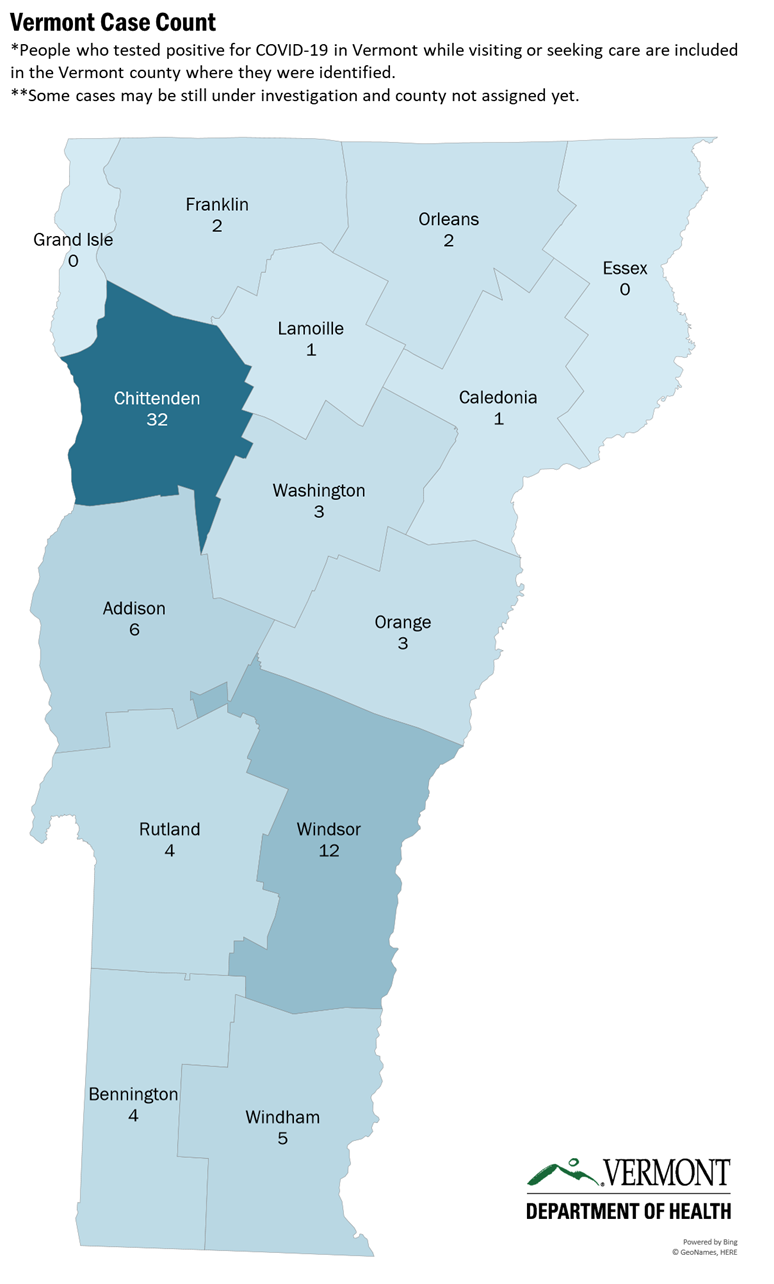 As of Monday at 1 pm, the state had only reported two positive cases of COVID-19 in Franklin County.
"This is really an unprecedented time," said Vermont Health Commissioner Dr. Mark Levine, "We've asked Vermonters to change everything about their lives, in a very very constricted period of time."
Leviene said now is the time to take advantage of connecting people using technology, and not to completely self isolate from other people, but just to physically isolate from other people.
The Governor addressed the pattern of increased cases throughout Vermont, confirming most people's predictions that this will continue for an extended period of time.
"On behalf of all Vermonters, I give my deepest sympathies of those who have lost a loved one due to the coronavirus," Scott said, "To win this battle, we must all do what we can."
Scott said he wanted Vermonters to start preparing for more difficult measures as this pandemic takes hold in the Green Mountain State.
"We're entering a new phase as we try to flatten the curve… it's no longer a question of if, but a question of when," Scott said.
All the small initiatives and acts of kindness are contributing to making Vermont a better place and putting the state in the best place for when this pandemic is over, according to Scott.
"Stand united as Vermonters," Scott urged citizens at his administrative office in Montpelier.
Also at the press conference with Governor Scott was US House Representative Peter Welch, speaking to what he has been doing to alleviate the pain for Americans, "We have a pandemic, and the recommended way of protecting our health is to compromise our economy. People cant go to work, businesses are closed down. People who had a job now don't."
Welch said the government must take the actions necessary to protect people's health, no matter how drastic and painful they are.
"We also have to be looking over the horizon to protect the economic challenges that we have had to suffer in order to protect our health," Welch said, "If ever (Washington) had to act to protect everyone, it's now."
Welch said the number one responsibility for the federal government is to make sure that the health and well being of families, and hospitals are secure, and businesses are still around when this is over.
This story will be updated.
Comments
Comments