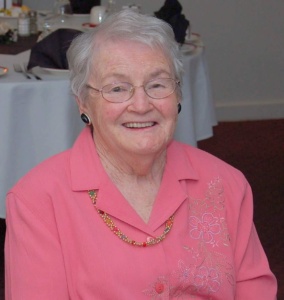 St. Albans: Mrs. Anna Seguin Lanoue, age 89, lifelong resident of St. Albans, passed away peacefully Wednesday evening, January 18, 2017, as a resident of the Kings Daughters Home.  She was born in Burlington, June 5, 1927 daughter of the late Eugene and Orena (Fleury) Seguin.  She graduated from B.F.A. in 1946 where she was remembered as a great cheerleader, majorette and a member of the B.F.A choir.  She was a member of the Ladies of St. Anne, Retired CentralVermont Veterans Auxiliary, V.F.W., and American Legion Auxiliaries. Anna enjoyed working at several local businesses, Ferland's Market, Doubleday Furniture Store, and our favorite Western Auto Store on Main Street, where many of our Christmases came from! She married Reginald C. Lanoue, November 28, 1946.    Reggie and Anna enjoyed many fun vacations with their many friends.  We as their children, experienced many family vacations.  After Reggie's retirement, they moved to Florida where they resided for fourteen wonderful years.  They returned to Vermont in 2000.  Anna lost the love of her life, Reggie, on July 7, 2002.  Her daughter Sue looked after her mom and made her comfortable in her home and cared for her for six years. Anna spent a lot of time at Care Partners during the week so Sue could work. She had two wonderful caregivers Stacy Gaudette and Linda Hobb who helped with her care at home. She had lived with her caretaker Diane Beauguard for one year before that.  We were very fortunate in 2014, Kings Daughter's received mom as a tenant at their beautiful home for ladies.  This is where mom had the best care after living with Sue.  She absolutely loved it there. Anna spent a lot of time enjoying bingo and cards, which were her favorite pastimes. Anna was there for three years and passed there with her family by her side and the loving care of their wonderful staff.  
Anna is survived by her children, Rodney (Skip) Lanoue and his wife Debbie Elwood Lanoue of Orange City, FL, David Lanoue and Robert Lanoue both of St. Albans, William Lanoue and his wife Julie of Orange City, FL, her two daughters Debra French and her husband William of Hepzibah, GA, and Susan Lanoue and her life partner Joe Olio of St. Albans, nine grandsons, two granddaughters seventeen great-grandchildren, one great-great-grandchild, a sister Mary White and her husband Joe of St Albans, and several nieces and nephews.   Besides her parents and husband, she was predeceased by her son Gary Lanoue, her daughters-in-law Helen Lanoue and Nancy Lanoue, her brothers Albert, James, Harold and Eugene Seguin, her sister Sister Margaret Mary Seguin, and special friends Raymond and Sylvia Patenaude.
A Mass of Christian Burial will be celebrated on the fifteenth anniversary of Reggie's funeral, July 11, 2017, at 10:00 AM, in Holy Angels Church.  Interment will follow in the Lanoue family lot in Mount Calvary Cemetery. There will be no visiting hours.  Online condolences and memories may be shared with her family and friends at the Brady & Levesque Funeral Home website: www.bradyandlevesque.com. Gifts in Anna's memory can be made to, The Kings Daughters Home. 10 Rugg St, St Albans, Vt 05478, or Care Partners 34 Franklin Park West, St Albans City, VT 05478 Arrangements are entrusted to the Brady & Levesque Funeral Home and Commemorative Services.
[bar group="86, 87, 88″]
Comments
Comments