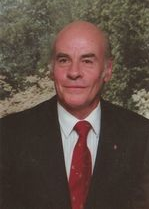 A true gentleman, Raymond Marvin Palmer, 92, of Burlington passed away Saturday, January 14th, 2017 at the McClure -Miller respite house in Colchester. He was Born June 3, 1924 to Hortense and Raymond E Palmer of St. Albans.
In the early years Ray could be found in and around Saint Albans delivering groceries for his father's store on Kingman Street, and as a teenager helped build the expanding railroad into Northern Vermont. Ray graduated from Bellows Free Academy in 1942. While at BFA he excelled not only scholastically, but also on the football field and basketball court. Ray's love of music matured at this time, singing around campfires at camp Abnaki with his father, and playing Alto saxophone and Clarinet with several local jazz and dance bands. He received a full scholarship to Syracuse University, studying Aeronautical Engineering. Early in his sophomore year he was called into service by the South Eastern Flying Training Command at Turner Field in the state of Georgia. After a very short and intense pilot training, he was assigned to the 12th Army Air Corps in the African Italian theater of operations. Ray flew many missions and was awarded several Service metals, two bronze battle stars and several service bars. At the end of the war he was briefly assigned to the Air Transport Command bringing staff members back to the states. Back home, Raymond returned to Syracuse and completed his studies in business administration. He briefly worked for General Motors Corporation, before establishing a long and successful career at General Electric in Burlington, where he retired in 1987.
Ray met the love of his life Alta Cilley, and was married November 13, 1952 …they recently celebrated 64 years of marriage. Together Ray and Alta raised their three daughters in a house full of joyful music. On occasion, fortunate listeners could hear barbershop rehearsals on the front porch filling the summer air with perfect harmony, and notably, his Chord Smugglers quartet received numerous awards. Raymond, a man of class and dignity, was a Past Master of the Freemason Patriot lodge 33. His 5 AM tennis court reservations continued until age 85, when poor health slowed his game down. Throughout his life, Ray's bridge playing accomplishments were legendary. At age 92, his quick wit could describe, and dissect an entire New York Yankees baseball game, inning by inning, hours after its completion. His grandchildren and great-grandchildren will always cherish the open arms waiting for them as they walked back to the house from the beach. We love you PopPop.
Ray leaves his beloved wife Alta of Burlington, daughter Terri Mitchell, husband Brad of Colchester, special Niece, Bonnie Campbell- Dattilio, of Essex Junction, son-in-law's, Norman Fontaine of Winooski, and Robert White of Essex Junction, brother-in-law Jed and Libby Cilley, of Essex Junction. Grandchildren Kristie Mitchell, her fiancé Kevin Perry, Casey and Joe Mescher, Carrie and Sean Macedonia, Great grandchildren, Autumn and Avery Macedonia, Lauchlan and Lilianna Mescher, nephews, Neil, Mark, Fred, and Peter Palmer, Jared Cilley, Nieces, Julie Voll, Andrea Cilley, Pam Fuller, and Debbie Gardner. Ray also leaves his very dear and lifetime friends, Tommy and Hammy Livingston and like a son and family friend, Terry McCarron. He was predeceased by daughters, Caroleanne Fontaine, Patti Rae Palmer, his Brother Ted Palmer and wife Evelyn, Sister Muriel Campbell and husband Richard. Brother, Emery Palmer, sister-in-law Melba Fuller and husband Carson, nephew, Douglas Carson.
The family would like to thank Doctor Chisholm, Kari Miller, Doctor Clough, hospice care, and the wonderful McClure Miller respite house.
"It is, I believe, the greatest generation any society has ever produced" – Tom Brokaw"
Raymond Palmer, your greatness will never be forgotten – Your Family
Visitation hours will be held at Lavigne Funeral and Cremation Service, 132 Main St., Winooski, Thursday, January 26 from 4:00 – 7:00 p.m. Funeral will be held Friday January 27 at 10:00 a.m. at The First United Methodist Church, 21 Buell St., Burlington. In lieu of flowers donations may be made to The McClure Miller Respite house in Colchester or any Veterans Association.
Online condolences may be sent to www.lavignefuneralhome.com
[bar group="86,87,88″]
Comments
Comments