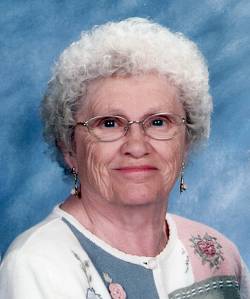 St. Albans – Jean Grover Bigelow, 87, passed away Thursday, May 3rd, 2018, after a long battle with Alzheimer's.
She was born in Gardiner, Maine on April 25th, 1931, to Donald and Rena (Astle) Grover.
Jean graduated from BFA in 1950 and worked as a bookkeeper at the Franklin Bank.
Jean ran a daycare for many years and was affectionally known as "Momma Jean" by the many children that she cared for.
She is survived by her husband, Elmer Bigelow of 65 years; her daughter, Bonnie (Charles) Godin of Swanton, Vermont; son,  John (Josephine) Bigelow of Ferrisburgh, VT and son, Scott Bigelow of Longmont, CO, as well as eight grandchildren and seven great-grandchildren ( more coming), who greatly blessed her life.
Jean was a member of St. Paul's United Methodist Church of St. Albans for over 80 years. During that time, she served in many capacity's at the church.  Throughout her life she volunteered for numerous activities. She always found time to help in any way as serving hands for her Lord.
Jean's family wishes to thank the staff and management of Franklin County Rehab Center, where they made her so comfortable in her new home.
Jean's family will receive friends on Wednesday, May 9th, 2018, from 1:00 to 2:00 PM at St. Paul's United Methodist Church, 11 Church Street, St. Albans.
A funeral service will follow at 2:00 PM in the church sanctuary. Interment will be at a later date in Greenwood Cemetery.
Those planning an expression of sympathy are asked to consider, St. Paul's United Methodist Church or Franklin County Rehab Center.
To send Jean's family a written expression of sympathy or share a memory, please go to her on-line guest book at www.healdfuneralhome.com.
Comments
Comments