FAIRFAX: Lynn Evans Roulston passed away peacefully in the loving arms of her daughter, Tamara, at Saint Albans Healthcare and Rehab of the morning of October 1st, 2020. A former resident of Fairfax, Vermont, Lynn was 97 years old. She was born in Springfield, Massachusetts to Leon and Emma (Curtis) Evans. Besides her parents, she was predeceased by her brother, Harry Evans, and her husband and the love of her life, Richard (Dick) Roulston.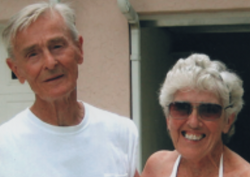 Lynn was a graduate of American International College in Springfield, Mass., and the University of California at Berkeley where she earned her Master's degree in Library Science. Lynn was an avid reader, and loved the library. She looked forward to her weekly visits during which she brought home several books. Music and books were her great pleasures, along with tennis, which she played often, and well. She learned to play the piano in her eighties, and continued playing tennis daily until she was almost 90. Always smiling and upbeat, she found the good in everyone. She awoke every morning looking forward to what the day would bring and loved life so very much.
Lynn leaves her three children, Tamara and her husband Gary E. Smith of Bakersfield, VT, Korie and her husband Rey Angeldonis of Osprey, FL, and her son Evan Weber of Nokomis, FL. She also leaves behind her grandchildren, Vernon Stokes and his wife Amber, Dylan Sunderland and his wife Chrissy, Karl Ennis, Morganna Ennis, and her great-grandchildren, Quentin Stokes, Tristan Sunderland and Nathaniel Ennis, along with her sister-in-law, Patricia Evans, and her nephews Brenton, David and Clifton Evans. Lynn is also survived by her best friend from college, Glendora Buell of Nassau, NY, for whom she had a deep respect and love which lasted long after they moved on to their separate lives after a memorable cross country adventure. She was loved deeply and will be missed.
Lynn wrote the following letter to herself on the eve of her 22nd birthday. It illustrates beautifully her beliefs and the way she lived her life:
On this day the eve of my 22nd birthday, I wish to set my thoughts and queries in writing.
First, I am urgently conscious of the necessity for constant allegiance to truth and goodness. Both of these as companions assures me forever of beauty. If I am ever disappointed or disillusioned by a human, it shall not be their deficiency, their insufficiency, but more my lack of understanding that shall cause the ideals to be broken. As long as I am aware of human failings and yearnings toward the ideal, I cannot be disillusioned.
To be disillusioned, it is necessary that I have an illusion and through these 21 years, I know that I have had great belief in that divinity, the good, in men. But with that belief, I have also learned that they are seldom conscious of it and it lies dormant in most, and undeveloped. If I am hurt by falsehood, insincerity, and dishonesty, I shall not increase the hurt by also being insincere and dishonest and false. I must be true unto myself, to cling to my beliefs, my ideals, my illusions (if you will) and forever remain strong knowing their value and their worth. To remain with an armor, it is easy to hold onto them. But, if in my contact with the world and human weaknesses, I shall still believe them to be certain, I shall be very grateful.
I want never to relinquish my hold on truth. I must hold it ever close and be true and faithful to it above all else. I want understanding of all. I want tolerance towards all. Much seems confusing but upon reaching the truth, all is clear and simple. There are very few who do not wish for the good, the perfect – but in their struggle for existence, their anxiety to be fed and clothed and housed, the fine and the deeply important are lost sight of. Give me the vision, the endurance to never lose sight of the truth and to continue daily and forever to add something of good and worth toward the ultimate perfection of humanity's world and contribute a warmth and understanding heart to all alive and holding within them a piece of God which gives to each and everyone a beauty I ever fail to see or feel within my conception.
I am not mature. I know it. I am ignorant of so much. I long to learn, to discover, to understand. I am not always happy; I am often perplexed. But I fear not because I believe in the greatness of the human spirit. Books I love because they are the mind and heart of a human; the music because it also it the soul of a human. But there is no strength necessary to read them. It is pleasant; it is inspiring. It is reclusive because you may select those you like. And in the world, the people met are various and often times not what I would select and many times upsetting and strange; but nevertheless important to me and good and necessary – and requiring strength and courage and enduring, firm faith in my ideals.
The family of Lynn Roulston would like to thank St. Albans Health and Rehab, specifically Ann, Rose, Carley, and the nurses, LNAs, and staff of East Wing. The care that my mother received while a resident of East Wing for the past several years was wonderful, compassionate, loving and complete. She really felt that it was her home, and that those that cared for her were part of her family. We, also, felt that way. They cared for her, fed her, helped her dress, danced for her, read her poetry and sang to her. They hugged her, calmed her anxiety, and told her she was loved even when we could not be there to do that in person. When she passed away the morning of October 1st, it was a peaceful end to a very long journey, and they were there then, too – for her, for me, and for our family. The love was tangible. Again, there are not words enough to express how we feel, how thankful we are for the nurses, LNAs and staff of East Wing. We will hold them in our hearts forever.
We would also like to thank Melissa, Katherine, and Chaplain Mike from Bayada Hospice for the care that they also extended to my mom… for all the songs, the prayers, and the loving care.
With much love, Tamara, Evan and Korie.
For those who wish to help end world hunger, memorial contributions may be sent to Heifer International, 1 World Avenue, Little Rock, AR 72202 or by visiting their website at www.heifer.org
To share a personal condolence or message, with her family please visit Lynn's online guest book at www.healdfuneralhome.com. Assisting the Roulston family is the staff of the Heald Funeral Home, 87 South Main St., Saint Albans, VT.
Comments
Comments