Rita Rose (Choiniere) Blouin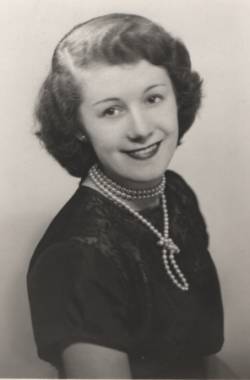 Saint Albans– Rita Rose (Choiniere) Blouin, age 90, passed away peacefully on December 17th, 2020, at Our Lady of the Meadows, with her husband Norm at her side, due to complications from memory loss and a recent fall that she had taken. 
She was born on January 4th, 1930, to Winifred and Eva (Desrocher) Choiniere in St. Alexander Canada.
She attended business school in Canada. In Canada, she met the love of her life Norm Blouin, which they just celebrated 69 years of marriage in September. After married, they moved to Vermont to help run the family business, J. A. Blouin's IGA
Rita was a mother, grandmother, and great grandmother. She cherished her family and loved to cook a great meal for all to enjoy. Rita was a long-time member of Holy Angels Church where she was a eucharistic minister, and very faithful to her beliefs, as well as a member of the Catholic Daughters of the Americas.
She is survived by her husband, Normand Blouin, her children, Pierre (Carol) Blouin, Dick (Donna) Blouin, Jo-Ann (Jim) Desnoyers, Louise (Chuck) Fitzgerald, as well as her grandchildren, Ashley Hart , Jenna Adams, Emily Blouin, Ian Mackenzie, Jessica Clark, Roxanne Sprague, Justin Desnoyers, Nicole Desnoyers, Hillary Desnoyers, Katrina Hawkins, Caleb Fitzgerald, Mariah Fitzgerald, and twelve great grandchildren.
Rita is also survived by a sister, Monique Brodeur; brothers-in-law, Ronald Blouin and Danny Blouin, sisters-in-law, Mert Blouin Rugg and Terry (Donald) Romano and many nieces and nephews.
In addition to her parents, Rita was pre-deceased by her sister, Madeleine Desmarais and two brothers, Germane Choiniere and Paul Emile Choiniere.
Due to current times, Rita's family has decided on a Mass of Christian Burial and Interment to be held at a later date in 2021, which will be announced.
In lieu of flowers, contributions in memory of Rita Blouin may be made to Franklin County Home Health Agency, 3 Home Health Circle, Saint Albans, Vermont 05478. Assisting the Blouin family is the Heald Funeral Home, "Celebrating Lives since 1918." Messages of condolence or sharing of memories are welcome at www.healdfuneralhome.com.
Comments
Comments