T-BIRD RALLY COMES TOO LATE, COMETS HOLD ON
By Ben Kaufmann
SWANTON – Missisquoi had turned a 2-0 BFA-St. Albans lead on its head in the second half Wednesday in all ways but the most important one. Despite getting the better of play and chances after the break, the Thunderbirds didn't find the back of the goal until two minutes remained and ended up taking a 2-1 defeat to the Comets.
"The opportunities were there. We got one and got right back in it, I wish we had another eight minutes to go. But our goal was to go out and win that second half and we did," said MVU coach Roy Adams.
The Comets (2-0-1) had taken a halftime lead with an undeniably superior first half. Molly Smith finished a Jenelle Hardy free kick for the first BFA goal and three consecutive corner kicks ended with Alayna Carpenter punching home an important insurance goal with 19 minutes left in the opening half.
A Carpenter header just prior to her goal, another by Sophie Zemianek and a close shot by Smith were all saved by MVU (2-2) keeper Shanneal Unwin to limit BFA to two first-half goals. Unwin's Thunderbirds nearly got on the board before the break with a late try sent just wide by Arianna Bourdeau and a strong Ava Hubbard free kick bouncing off the crossbar.
Comet coach Ben Marlow says his team is at its best when all the little things are handled well and the Comets were doing that in the first half.
"I think when we are communicating and we're challenging 50/50 balls, I think we are a pretty strong team," he said. "We possess with a purpose, I think that helps too, but just doing those really small things like winning 50/50 balls."
Missisquoi came out on a mission to open the second half. Hubbard, Alex Brouillette and Molly Gagne all had good chances. Defense kept the Thunderbirds alive when Madison Guyette cleared a Jodie Gratton shot off the goal line with only inches to spare and just 27 minutes left. Destinee Pigeon and Hubbard – from another free kick – each had a good look as the game got inside of the final 10 minutes but BFA clung to its lead. With three minutes to go, Hubbard put another shot off the crossbar. Undeterred, she took a free kick a minute later and placed it perfectly for Pigeon to pop a header in and give the Thunderbirds a goal and a sliver of hope.
Adams says Hubbard's awareness of knowing when to try a shot and when to try to find a forward is one of the things that makes her such a special player.
"She controls our midfield and a lot of things happen if we put the ball on her feet," he said of his junior co-captain. "She can shoot from anywhere and then if we're there to clean it up or she's been making some beautiful crosses and the same thing – be there to clean them up. If we can do that we will put the ball in the net."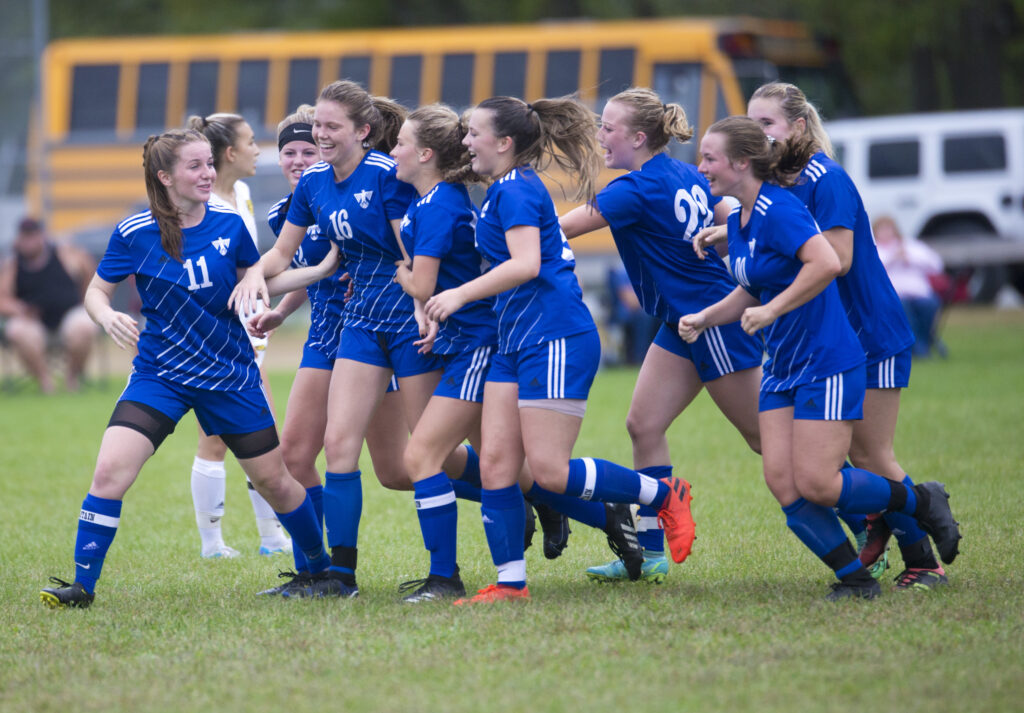 Comet goalie Ayla Shea had been otherwise perfect on the day and made her most important play in the frantic seconds after MVU's goal. The Thunderbirds earned a corner and Hubbard launched a cross back toward the head of Pigeon, but Shea made the interception and concluded the day with a six-save win.
Beyond Shea and the usual suspects like Jocelyn Chun in the middle and Cadence Moore defensively, Marlow said he got contributions from his bench to help BFA preserve the win Wednesday.
"I thought Makenna Hughes played great for us in the back," Marlow said. "I thought she really held down and didn't make any mistakes. Drew Ducolon on the other side did a nice job of clearing some balls when they came to her. We had girls in positions today who sometimes don't see a ton of time and they were giving it everything they had."
Unwin and second-half keeper Madison Aiken combined to stop 15 shots for Missisquoi on Wednesday. They'll return to action at Oxbow on Saturday. The Comets have nearly a week off before heading to Colchester for a night game on Tuesday.
Comments
Comments