[bar group="98″]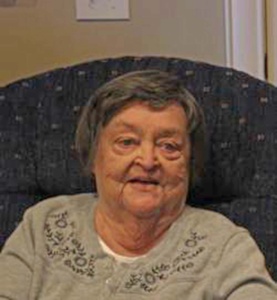 St. Albans – Pauline Ann Brady a lifelong resident of this area passed away Wednesday evening, April 5th, 2017, at the Northwestern Medical Center.
Born is St. Albans on October 9th, 1935, she was the daughter of the late Ernest and Jeannette (Prevost) Duquette. Pauline was 81 years old.
Pauline was married to Theodore A. Brady, who pre-deceased her on June 17th, 1995.
She was a 1953 graduate of Bellows Free Academy and went to on to obtain her RN at the Jeanne Mance School of Nursing. She started her nursing career at Kerbs Memorial Hospital and then retired from the Holiday House Nursing Home.
Pauline was a member of the Northwestern Medical Center Ladies Auxiliary, St. Albans Free Library, St. Albans Historical Society and Museum, The Red Hat Society and Franklin County Senior Center, where for many years she delivered Meals on Wheels.
Survivors include her son, David Brady and his children, Marc Honsinger and Heidi Brady all of St. Albans; her two daughters, Mary Beth Brady-Wheelock and her husband, William, of Raleigh, North Carolina and Melissa Holzscheiter and her husband, John, of St. Albans.
Pauline is also survived by her brothers, Norman Duquette and his wife, Asteria, of Virginia and Robert Duquette and his wife, Janet, of Essex, as well as her sisters, Jacqueline Ouimet and her husband, Bernie, of New York, Jeanne Winn and her husband, Ed, of St. Albans, Juanita Hasan of Essex, Diane Duquette of Essex and Michelle Atherton of Colchester and several nieces and nephews.
Comments
Comments