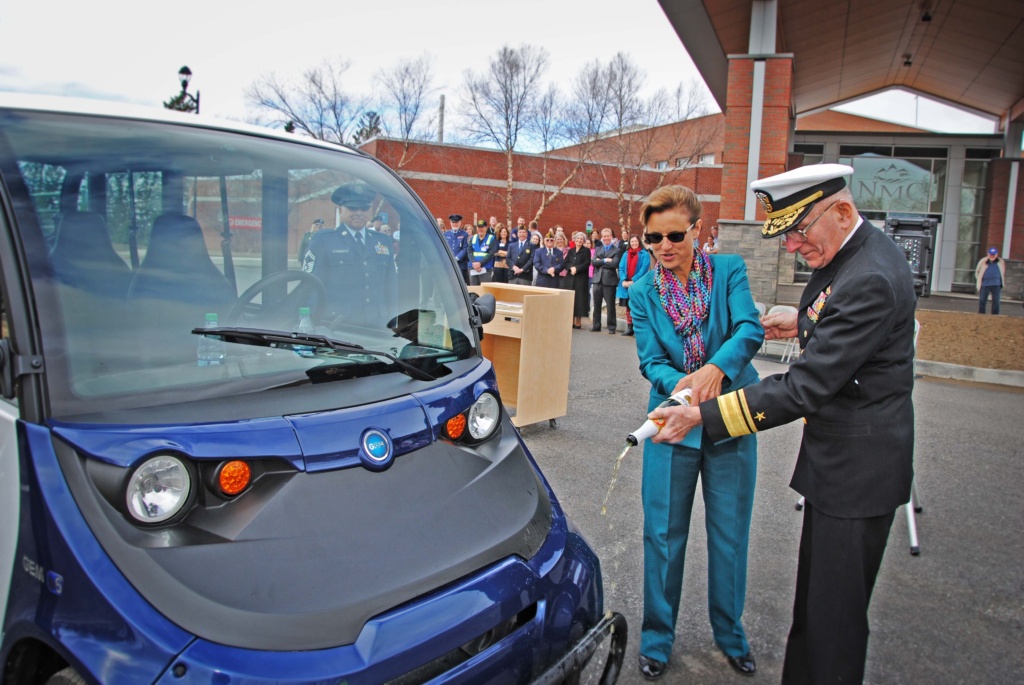 ST. ALBANSs: On Wednesday, April 5, Northwestern Medical Center and local veterans kicked off the new Veterans Sponsored Valet Service at the hospital in naval fashion, pouring a bottle of bubbly beverage onto the brand new six-passenger electric vehicle that will be used to transport patients and visitors around the hospital campus.
The ceremonial "christening" of the vehicle was attended by local veterans groups, NMC staff, and volunteers, City Mayor Liz Gamache, Town Manager Carrie Johnson, as well as President Tom Gallagher of Peoples Trust, one of the fundraising event, sponsors for the new service.
Rear Admiral Warren Hamm welcomed the crowd after a presentation of the colors by a color guard and said that the veterans who are volunteering at NMC are proud to continue their service to their community just as they served their country in the past.
NMC CEO Jill Berry Bowen earned the first ride in the newly-commissioned GEM car after thanking the veterans for making the service possible. In her remarks, she reflected on how ongoing changes to the NMC campus help NMC achieve the mission of exceptional healthcare, as the organization does everything possible to make patient and visitor experience welcoming and comfortable. She thanked Admiral Hamm, Senior Master Sargent Homer Wetherby and Senior Chief Jim Lavoie for their efforts in getting this initiative started.
"Thank you to each of the men and women who have stepped forward to help us establish this important service for Northwestern Medical Center.  We are so very grateful for your service to country and your continued commitment to service in your local community.  Your pledge of $50,000 is remarkable and the voluntary staffing of our new valet and shuttle program is equally impressive."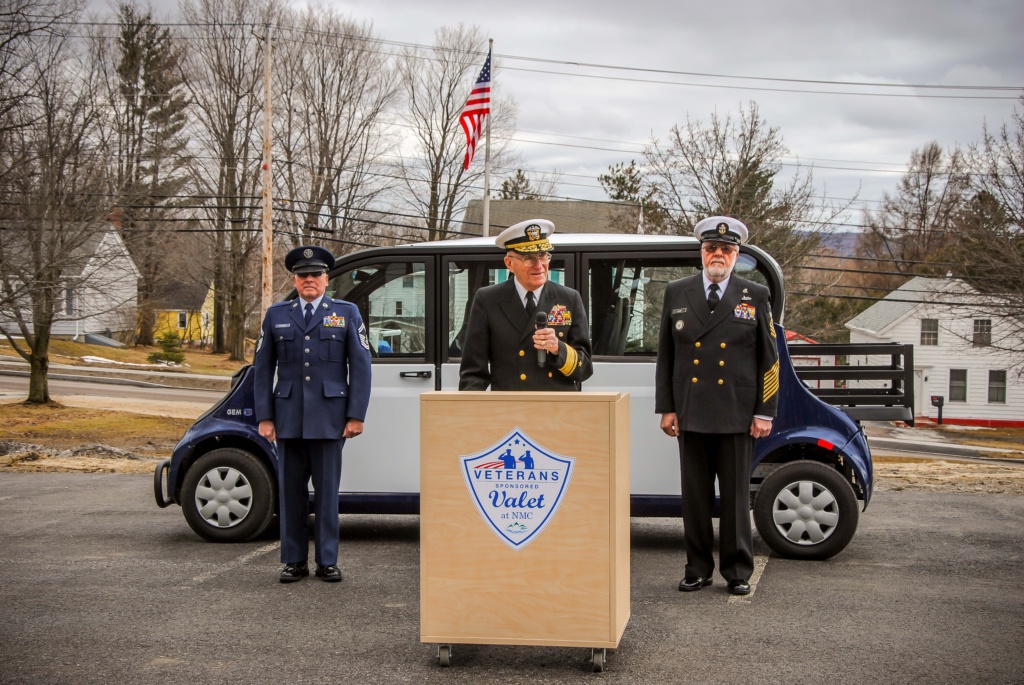 The veterans' initial pledge of support helped the valet service get its start, with ongoing support from other local contributors.
NMC's Veterans Sponsored Valet Service is staffed by veterans and other local volunteers, and helps with the parking personal vehicles as well as offering transportation the electric vehicle. Visitors who park in NMC lots can get a ride to the main entrance, or to other on-campus buildings such as the Cobblestone Health Commons.
The program is currently offering service on most weekday mornings and will grow to greater hours as the service continues to build. NMC's Veterans Sponsored Valet operations are conducted from a podium at the main hospital entrance – watch for the curbside sign at the main entrance when you arrive for service availability.
The local Military Service Organizations – Veterans of Foreign Wars Post 758, American Legion Post 1, American Legion Post 88, Vietnam Veterans of America Chapter 753, Marine Corps League, and Elks Lodge 1566 have worked hard to launch this new service which they are proud to offer to hospital's patients and visitors. Veterans have served their country and continue to serve their community.
Volunteers for the program are still needed. For more information about the service or to volunteer, call 524-1299.
Comments
Comments