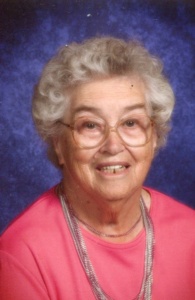 NORTH HERO – Ruby Jane Gonyea, age 97, a lifelong resident of North Hero died peacefully, Thursday, April 26, 2018, at the Northwestern Medical Center in St. Albans.
She was born July 19, 1920, in North Hero the daughter of the late William & Lottie (Frost) Parrott.
Ruby attended school in North Hero and on March 9, 1939, she married Otto Gonyea who predeceased her. She worked at Holiday Harbor and Alburgh School as a Foster Grandparent for 31 years retiring in 2014 at the age of 93.
She is survived by nieces, Ann Carol of New Hampshire, Susan Barcomb of Rouses Point, NY, Nicky Gardner of Morrisville & Fanny Parkhurst of Hyde Park; nephews, Marvin Rocke his wife Helen and their family of New Hampshire, William Parrott and family of Milton; good friends, Kevin, Amalia, Amanda & Arianna Dingee of Poughkeepsie, NY, Jean & Mark Mahoney of Poughkeepsie, NY, Debbie & David Hall of Bakersfield; Sisters-in-law, Esther Parrott of Alburgh, Laura Munson of Clifton, NY, Mabel Abare of Florida; several great nieces and nephews. Besides her parents and husband, Ruby was predeceased by her sisters, Florence Delisle, Anna Rocke, Gladys Patenaude; her brothers, Milton Parrott, Floyd Parrott & Raymond Parrott; her nephew, Larry Garrett and his wife Leona; and her niece, Leora Lemnah.
Funeral services will be held Tuesday, May 1, 2018, at 11:00 am at the Kidder Memorial Home, 89 Grand Avenue, Swanton with Pastor Chico Martin officiating. Interment will follow in the Jerusalem Cemetery in North Hero.
A time of visitation will take place at the funeral home on Tuesday from 10:00 am until the hour of the funeral
For those who wish, memorial contributions may be made to Champlain Islands United Methodist Parish, P.O. Box 107, North Hero, VT 05474.
[bar group='86']
Comments
Comments